The all-electric Renault Zoe car review
Electric cars are making more and more sense to more and more people…and the Renault ZOE is one of the best and one of the easiest to live with. Some electric cars stand out from the crowd, but if you prefer to have an electric car that looks like an 'ordinary' car, you'll love the ZOE.
What Car? magazine named it as their 2020 Small Electric Car of the Year.
Well, Renault have moved things on with the latest ZOE. The headlines are increased power and range, vastly improved interior design and a host of new tech.
Performance
Electric cars are surprisingly brisk. You have 100 per cent power instantly. 0-60mph takes around 10 seconds in the ZOE while 0-30mph comes up in under 4 seconds so it feel sharp pulling out of junctions or away from the lights. Range is critical in electric cars.
Drive easy and Renault reckon you'll manage close to 245 miles on a full charge. Find a rapid charger and you can recharge the battery from zero to 80% in just over an hour. If you're tight for time, a 30-minute charge is enough for a 90-mile boost in range. Most people get into a habit of charging at home or work every day.
Driving the Renault Zoe
Out on the road, the ZOE is huge fun to drive. Simple too as there are only two gears… backwards and forwards. It's real point and go driving and even makes town driving enjoyable because it's so nippy. You can also use what Renault calls 'B Mode'. This increases the level of engine braking so, rather than coasting along when you lift off, the engine braking system becomes a generator and tops up your battery.
Once you get the hang of it you can drive in traffic using just one pedal and never touch the brakes. The ride is smooth and absorbs lumps and bumps around town yet is sufficiently controlled at higher speeds. Oh, and because there's no engine, you waft along in near silence.
.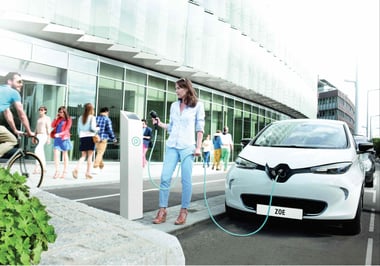 Comfort
The interior is really smart with a premium feel. Every ZOE comes with air conditioning, cruise control, tyre pressure monitor, powered front windows and mirrors, auto lights and wipers, front fog lights and a remote key card for hands-free entry. Higher levels get sat nav, rear parking sensors and a reversing camera.
There's plenty of space for four adults or a family of five. If you use the ZOE for the school run, kids will have loads of room. Isofix child seat connections are fitted to the two outer rear seats. The boot is surprisingly roomy; it'll easily cope with the weekend shopping.
What's the verdict?
The Renault ZOE is one of the best electric cars around. It looks smart inside and out, is fun to drive, easy to live with, and has a good potential range.
Cars that are similar to the Renault Zoe:
Find your own Renault on Subscription today.