Review of the Mercedes C Class 220d
The Mercedes C Class is a motoring success story. It's been around for approaching 30 years and despite having a premium badge and an upmarket image, it is one of the most popular cars on UK roads.
No surprise therefore that it's also one of the most popular cars here at Wagonex. We reckon it looks like a mini S-Class. It really is that smart and distinctive.
Next time you are trundling along the motorway, keep an eye on the number of C-Class Mercs which overtake you.
What makes this Mercedes C Class special?
You get the same features and a similar look to the S-class for half the price
Truly luxurious interior cabin
Huge boot for a sporty saloon car (455 Litres)
Not that fast but is particularly comfortable to drive on the motorway
There aren't many cars with this build quality and look for a price under £50,000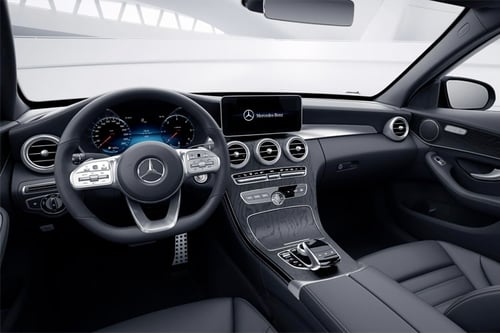 What about the engine?
It's a brilliant all-rounder with a for the 2.0 litre diesel engine and an automatic gearbox. This gives you decent performance and 56.5mpg from 196bhp.
Bearing in mind that there is a diesel engine under the bonnet, this Mercedes 220d C-Class is incredibly refined. You'd struggle to tell whether it was petrol or diesel powered to be honest. The difference comes when you accelerate because the diesel engine has loads of low-end pull. This makes for easy driving around town but also provides plenty of overtaking oomph on motorways.
You really do get the impression that you could travel for hundreds of miles and still feel relaxed at your destination.
It's certainly worth mentioning the ride quality. The C-Class isn't a big car but it rides along like one. The 9-speed auto 'box is also worthy of praise. It swaps seamlessly between the cogs and merely adds to the feeling of high class engineering which typifies every Mercedes product.
We've gone for AMG Line trim and, you're in luck, we've managed to get the Night Edition. This means you get leather upholstery, satellite navigation, heated and powered front seats, LED headlights, air con and cruise control. The seats are really comfy while also providing the right amount of support.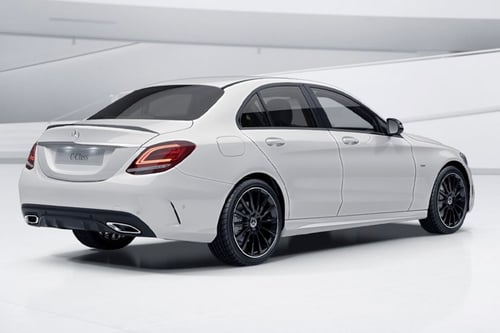 When it comes to 4-door saloon travel, the Mercedes C-Class is a class act. It looks wonderful, drives really well, has plenty of kit included and fully deserves the kudos which goes with driving the three pointed star.
It's a quality machine.
The Mercedes C Class 220d in one sentence?
An executive express.
Fancy a Mercedes? Look at some of our other reviews: