Before we get started on our review of the Volkswagen Tiguan R-Line, here's a breakdown of the Tiguan's performance and specifications.
Engine Power: 150 BHP
0-60: 9.2 seconds
Top Speed: 126 mph
Boot space: 615 L
First Impressions of the Volkswagen Tiguan R-Line
The Tiguan is a really important car for Volkswagen. Here in the UK the Golf and Polo are the company's biggest sellers, but next-up is the Tiguan. And that's why it's a popular car at Wagonex.
We've gone for the R-Line because you end up with a Tiguan that stands out from the crowd. We think it looks like a smaller version of the hunky Touareg.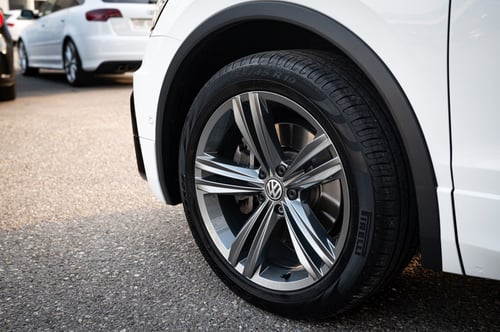 What good features does the VW Tiguan have?
You get really smart 20-inch alloys, side skirts, wheel arch extensions, heated front sports seats, sports suspension, sat nav, air con, and a brilliant audio system with DAB. There's also a sunroof and parking sensors.

It's pretty good that you have three USB-C connectors, one in the rear and two in the front. This will be a lifesaver on long journeys.
Is the VW Tiguan slow?
Power comes from a 148bhp 1.5 litre petrol engine which drives the front wheels. We've gone for the automatic gearbox because it suits the Tiguan's likely role as a long-legged cruiser. It makes for effortless, smooth motoring. 0-60 takes 9.2 seconds and the top speed is 125mph. As for economy, VW reckon you'll manage close to 40mpg.
It's roomy, comfortable and, thanks to a large boot, will be ideal as either school run transportation or loaded to the gunwales for a trip to a holiday resort. Going to the tip has never felt so good! It's also fitted with a stack of safety equipment and driver assistance aids.
If boot space is what you need this R-Line has a 615 liter boot! It's huge! You'll struggle to fill this one up, but if you think that's super important, you can go for the Volkswagen Tiguan Allspace R-Line for a 700L boot! That's some almighty boot space!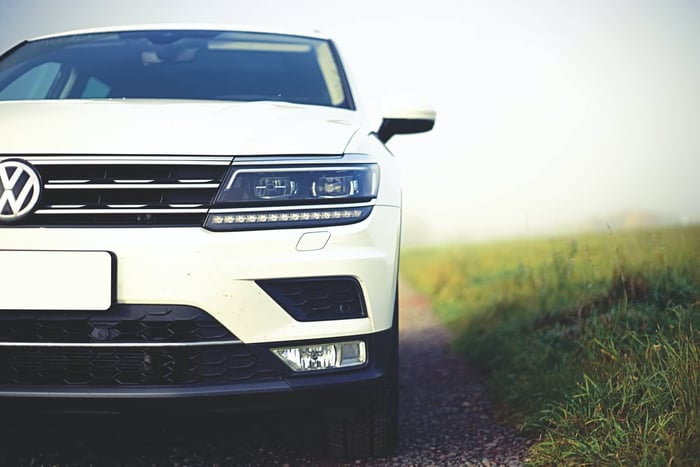 Is the VW Tiguan worth considering for your next car?
Cars like this are designed with families in mind so they need to be comfortable and versatile….and the Tiguan certainly ticks that box. It also looks and feels extremely well built and has a premium air about it. Volkswagen have upped their game in terms of quality.
Oh, and don't think that because the Tiguan is an SUV aimed at families that it'll be dull to drive. You couldn't be more wrong. It's great. In fact, when it comes to SUVs, it's one of the most entertaining models available.
If you need a car that becomes a cherished member of your family, the Volkswagen Tiguan will fit right in.
Are you a fan of Volkswagen? Here's some great reviews for you: