Get a closer look at the Mercedes A Class 180 Sport Executive in Wagonex's complete review.
Five-door hatchbacks are ten-a-penny….but finding one which has the blend of styling, decent levels of kit, interior space, build quality and driver enjoyment can be tricky. Here's the answer…..get behind the wheel of the Mercedes A Class.
Mercedes A Class Specifications
Price: £28695 Boot space: 355 litres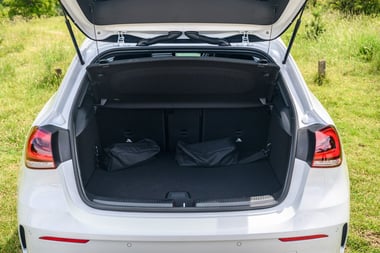 Mercedes A class Performance
Engine Size 1.3 L Emissions 140 g/km
Fuel: Petrol Transmission: Auto
Efficiency: 47.1 Miles Range Power: 136 BHP
Top speed: 126 mph 0-60: 10 seconds
Mercedes A Class Exterior
When the A Class first appeared, it had a bit of a dumpy look to it….but this latest version looks extremely smart and rather sleek.
The 17-inch alloys are stylish and the heat insulating dark tinted glass keeps things cool for the passengers as well as looking cool to admirers. LED headlights are also included.
You probably won't spot it straightaway but there's a crease in the bodywork just below the side windows which shows that Mercedes puts a lot of emphasis on clever design touches. A reversing camera makes it a doddle to park.
Mercedes A Class Interior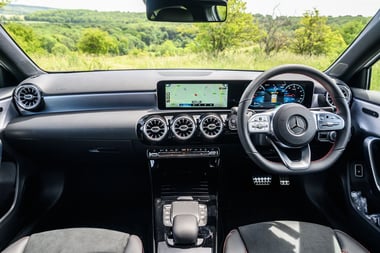 Needless to say that build quality is excellent…this is a Mercedes after all. You get all of the essentials including automatic air conditioning, satellite navigation, DAB radio, cruise control, Apple CarPlay and tyre pressure monitor. Almost everything is controlled by a stylish 7-inch touchscreen.
The seats are super comfy and very supportive. You'll also have great fun with the 'Hey Mercedes' voice control. You end up having a conversation with the car.
The one thing that'll strike you as soon as you hop in is the ultra-modern design of the dashboard. It's much the same as the other Mercedes models much higher up the range. It's extremely classy.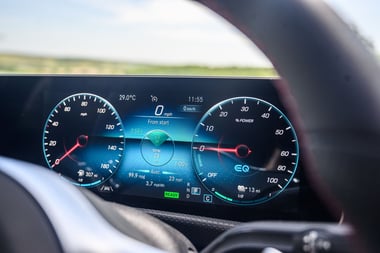 How it Feels to Drive the Mercedes A Class
Power comes from a 1.3 litre 136bhp petrol engine with a 7-speed automatic gearbox feeding the front wheels. You'll get a 0-60 time of 8.8 seconds but go easy with the right foot and Mercedes reckon you'll get 47.1mpg.
Initially you feel as though you need to work the engine quite hard, but once you get the hang of it you'll realise that it's actually a willing and able performer. If comfort is the name of your game, you'll love the A Class. Granted this can make it feel a bit floaty when you build the speed, but you'll certainly appreciate the cushy ride at slower, town speeds.
What's the Verdict on the Mercedes A Class Sport Executive?
Hugely desirable, handsome, well equipped, good to drive and ideal for both commuting and family holiday travel. It really is the sort of car that will make you want to hop out of bed on a Sunday morning and go for a drive….just for the fun of it. And yes, there's still something rather special about driving a car with the 3-pointed star.
Find yourself a Mercedes on subscription here.
Or go to our reviews page to find our top rated cars.
All images provided by Auto Express