Mercedes have spotted a gap in the market. Too often when you look at the electric and hybrid car market, you'll find some very odd-looking machinery. Consequently, Mercedes decided to, in a nutshell, take their highly successful GLC, whip out the oily bits, install electric motors and a battery, and redesign the bodywork.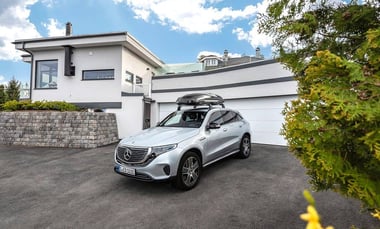 Bingo.
You end up with a hugely desirable electric car that has the sort of kerb appeal you would expect from any Mercedes. We think it looks better than the GLC because there's a sleeker, curvy roofline and the rear hatch looks less cluttered.
How does it feel to drive the Mercedes EQC?
As with all electric cars, the Mercedes EQC is effortless to drive. You can make rapid progress too. 0-60 takes around 5 seconds, and top speed is 112mph. There are two electric motors: one for the front wheels and another for the rear. Traction is excellent thanks to the all-wheel drive system. Total power output is a very healthy 402bhp.
Go easily and Mercedes reckon you'll get close to 250 miles on a full charge. If you need a top-up while you're out and about, plug the EQC into one of the increasing number of public chargers and you'll hit around 80 per cent in 40 minutes, a distance of around 200 miles. You can find the nearest charger by using the built in sat nav - it's programmed to find one for you.
What features are packed in to the Mercedes EQC?
Every EQC is fully equipped with goodies like sat nav, reversing camera, climate control, keyless entry, heated seats, privacy glass, LED headlights, and a really smart touchscreen. The audio system which includes DAB radio, which is brilliant. You'll have plenty of fun with the 'Hey Mercedes' voice-control. On top of this, the Wagonex EQC is an AMG Line model which adds 20inch black alloy wheels, running boards, sports seats, leather upholstery, and special AMG rear apron. It's a seriously smart car. Oh, and it's crammed with safety devices.
What about the interior?
The interior is spacious and comfy. Four adults have loads of legroom. As you'd expect, the build quality is something to behold. However, there is something you need to get used to; riding along in the EQC is eerily quiet. It has to rate as one of the most hushed cars we've ever been in.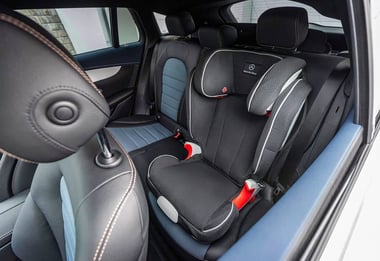 Out on the road, the EQC has very soft suspension which makes it ideal for long distance cruising. It absorbs lumps and bumps around town with only the faintest shudder.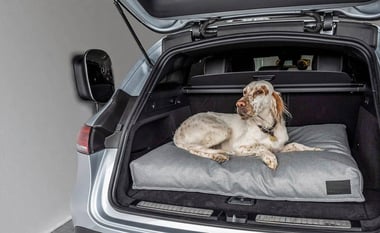 Overall the Mercedes EQC is a roomy SUV that oozes quality and is incredibly refined. It comes fully loaded, and thanks to the AMG Line package it looks fantastic. Get used to the charging routine and you'll quickly discover the Mercedes EQC is cheap to run, and you'll love the performance which is instantly on tap. Great car.
Discover the advantages of Mercedes on subscription.
Photos courtesy of Mercedes.