If you are looking for a 5-door hatchback with a premium image, then look no further than the BMW 118i, especially the one with the M Sport package which is available via Wagonex.
What's our first impression of the BMW 118i?
The BMW 1-Series stands out in the entire BMW range because it is something of a rarity…. it has front wheel drive. BMW prefers its cars to be pushed rather than pulled, but the advantage of a front wheel set-up is that the engine is placed sideways therefore allowing for additional interior space.
Consequently, the BMW 1 Series is surprisingly roomy. The interior is also a really pleasant place to be because the materials are top notch
.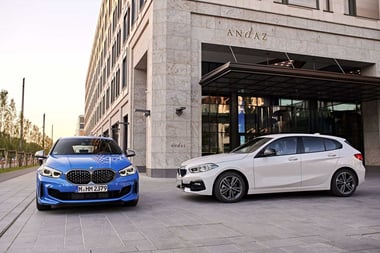 What is the BMW 118i like to drive?
Out on the road, the 118i is an engaging car to drive. The 134bhp 1.5 litre 3 cylinder petrol engine performs really well with a 0-60 time of 8.7 seconds and a top speed of 132mph. Sounds good too. Power goes via a 7-speed auto gearbox.
As for economy, go easy and BMW reckon you can manage almost 48mpg.
The beauty of the BMW 1 Series is that it is so versatile. If you are a keen driver who likes to push on, this BMW is an absolute delight. BMW has always been good at producing "drivers' cars"…and this 118i M Sport is no exception. However, because it is a 5-door hatchback, it doubles-up as a perfect family car. If you need a car for a family holiday, look no further.
What features are available with the BMW 118i?
The M Sport package makes this BMW stand out from the crowd. Front and rear spoiler, sports exhaust, sports suspension and really smart alloy wheels all come as standard. The improvements continue inside as well with heated sports seats in the front, leather upholstery, and a sports steering wheel.
You also have satellite navigation, LED lights front and rear, 10.25inch colour touchscreen, brilliant iDrive which allows you to scroll through options on the screen (very easy to use…not like some of the fiddly ones you get in other cars where you have to prod the screen), air conditioning, cruise control, front and rear parking sensors, and DAB radio. It's a fully equipped car.
The BMW 118i is a terrific all-rounder. Throw the M Sport package into the equation and you have one which has serious kerb appeal as well as sharpened driver responses. It works well as a family holdall or motorway express.
This is one of our favourite cars.
Discover the benefits of a BMW subscription