Today we're reviewing the Ford Kuga. It's the pick of the bunch for busy families all over the UK, but are they right to choose this car? Find out in our breakdown.
The Look
The Ford Kuga is one of the most recognizable SUVs around. It's also one of Ford's most successful models. We reckon it's one of the most playful looking cars we've seen here at Wagonex.
The previous version of the Kuga was a bit stodgy and dull, but this latest model…it's the third update which Ford has given the car, and they've upgraded it again with a glossy grille, brighter and bigger headlights, and sportier wheels. The cars that are around this price range don't look as good as this.
The Features
We've got the Titanium model available which means it's packed with goodies like:
Sat nav
Front and rear parking sensors,
Tinted glass, heated windscreen (great on frosty mornings)
8-inch colour touchscreen, cracking audio system,
LED head and tail lights,
Rear view camera and
Ultra-stylish 18-inch alloys.
There's also a seriously impressive list of safety kit.
The Engine
Power comes from a lively 1.5 litre 150bhp petrol engine. Ford reckon you'll get over 42mpg.
As you'd expect, there's plenty of space for 4 adults or a family. You'll love the raised ride height which makes for easy punting around town or along country lanes.
The Interior
For a smaller SUV, it's driving position is elevated, and give you a feeling of driving a larger SUV. However, overall it doesn't make you fall in love. It's quite dull like other versions of the Kuga but if you want simplicity when you're driving, it's a good bet because you want be fiddling with the touch screen, or fiddling with dials in this car.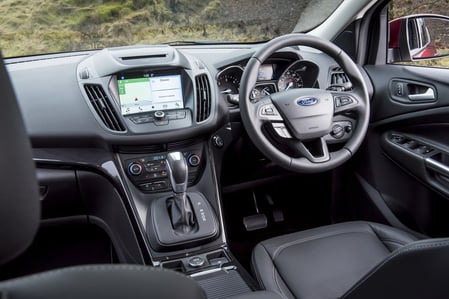 The Back Seats, and the Boot.
It's got 411 litres of boot space, which is very good for the price range but to get better boot space, you'll have to go for the more premium options but for those times when you're looking to carry a heavy load, just lower the rear seats to unlock more space.
The back seats have got a lot of space if you're travelling with 4, but it will be stretch for 5. If you have a family of 5 it work fine but 5 adults would be a push too far especially if it's regular travel, or long trips.
Would we recommend this car?
If you like driving an SUV that is just as practical as a 4x4, without feeling like you're lugging around a bus, this is the perfect car. It's affordable, practical, isn't ugly and it's also pretty economical to run.
The fact that it's also great to drive is what makes this car so popular in the UK.
Go to our marketplace to start driving the Ford Kuga on subscription today!
Follow Wagonex on Twitter, and Facebook to get new car reviews every week!