TIME TO HIT THE ROAD
For the vast majority of our time behind the wheel, we're going from A to B because we have to. It's called work, dropping off the kids, visiting relatives, going to the match etc.
Thankfully, there are times when we're either heading off on holiday or, even better, just going for a ride out because…well...because you just fancy it.
Here's our favourite five road journeys. All have a purpose…all have something either at the end or en route.
The Tan Hill Inn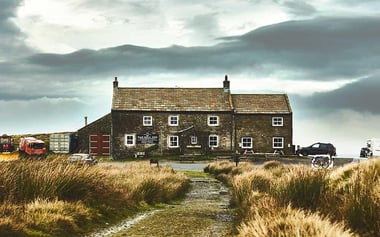 High up in the Yorkshire Dales…Swaledale to be exact…you will find a unique place.
Britain's highest public house sits on the crest of a hill at 1,732 feet (528m) above sea level. It's a 17th century watering hole which is handily situated for walkers who're trudging along the Pennine Way. Some of you will remember it as the building that was featured in the Everest double glazing adverts. There was a howling gale outside (allegedly) but inside they dropped a feather which showed that not the slightest draught was evident through the windows (allegedly). And yes, the feather is proudly displayed in a wall cabinet.
It's also become something of an icon amongst the music world as bands often call in when they're travelling across the UK. Arctic Monkeys, The Hoosiers and Scouting for Girls are some of the top-line performers who've appeared at the Tan Hill Inn.
Warning. Choose your time of year carefully. Guests are regularly snowed in and have to stay the night. We don't see that as being too much of a chore!!
How to get there? Leave the A66 near Brough and join Green Lane which merges onto Long Causeway where Tan Hill Inn is situated.
2 Alnmouth to Lindisfarne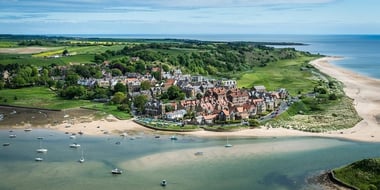 Alnmouth is a coastal village in Northumberland. If you are looking for a classic fishing village, then this is it. It's well worth staying for a couple of nights in the village because the whole area is scattered with castles, stunning beaches and visitor attractions. It's also only 5 miles off the A1 trunk road between England and Scotland.
The road to Lindisfarne, often referred to a Holy Island, is a joy to drive along. When you leave the A1 you are then faced with a decision. You must travel along a causeway which floods as the tide comes in. You need to decide whether to wait for high tide to ebb and then drive across as the water recedes, or drive to the island and stay there until the next high tide recedes. You can go online and get the tide times.
Lindisfarne Castle is well worth a visit. You will be able to find out about the history of this island which has had its fair share of trouble with Viking invaders. It's also a religious place and was home to various saints including Saint Cuthbert.
How to get there?. Alnmouth and Lindisfarne - Holy Island are well signposted off the A1.
3 SNAKE PASS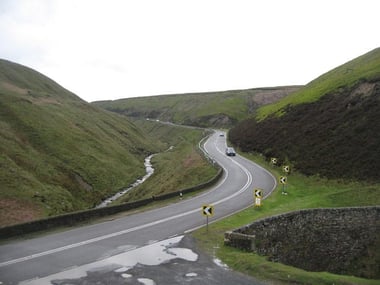 When it comes to views as you drive along, they don't get much better than this. Okay it's only a 30-40 minute drive, but it's well worth making a detour to give it a go. As with a lot of these drives, you need to judge things if you intend driving along it during the wintertime. A bit of sleet in the towns of Sheffield or Glossop (near Manchester), which the A57 connects, will often see drifting snow at the summit of Snake Pass. On average it is closed for 70 days per year.
As for the road itself, the clue is in the name. It twists and turns its way up and down the Pennines and, after a while, you'll lose count of the fantastic views. A lot of motorists will do this route in both directions….in other words leave Sheffield, drive to Glossop, turn around and head back to Sheffield. Why? Because, obviously, the views are different when facing in the opposite direction.
Choose to go there in late summer because the Pennines are smothered in heather. On a clear day, heading west, you can see Manchester on the horizon.
Be careful. There are blind summits and tight bends. Don't get caught out. It's also a huge favourite with bikers.
How to get there?. Simple…it's the A57 from Sheffield to Glossop and onwards to the outskirts of Manchester.
Loch Lomond to Loch Ness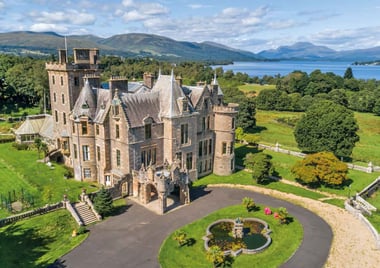 This is the longest of our routes, stretching to around 130 miles. It's fairly slow at most times of the year so allow for at least 3 hours. This is the A82 and it takes you through Loch Lomond and The Trossachs National Park, through Glencoe, Fort William, alongside Loch Ness and on to Inverness.
To be honest we'd make a whole day of this route because there are numerous places where you'll either want to stop and enjoy the views or visit some of the attractions.
Glencoe is stunning. It was the venue for the James Bond film Skyfall and can be incredibly moody when the weather turns rather bleak. You'll also be able to see Britain's highest mountain, Ben Nevis. We love Urguhart Castle ruins near Loch Lomond. If you've got a picnic, this is the place to stop and soak up the atmosphere.
How to get there? Just follow the A82.
South West Coastal Highway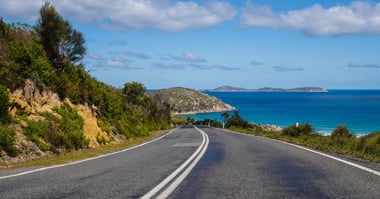 The A30 and A39 can be busy roads in holiday season but for the rest of the year it's one of the nicest roads in Britain, stretching from near Exmouth to Falmouth. For most of the journey you will keep coming across wonderful views out to sea. There are loads of places where you can dip off the main road and head to a remote cove or fishing village. You can also park-up for a few hours and walk along the coastal paths. Take a picnic…perfect.
You'll pass through several towns as you travel between Devon and Cornwall. Why not stop off and have a cream tea. You can then get involved in the argument as to whether it's cream first followed by jam or vice versa.
Dartmoor National Park is somewhere you can call into and there's also the Tamar Valley Area of Outstanding Natural Beauty.
How to get there? Use the M4 and M5 from Bristol, head south West and you'll merge onto the A39.
Follow us on Twitter and Facebook to stay up to date with Car Subscription.