Family-sized electric SUV arrives at Wagonex. Here's the full review!
Audi already has cars which are 100 per cent powered by electricity…they're called e-tron. But, they're based on cars which use a lot of underpinnings from their petrol / diesel models.
Until now.
The Audi Q4 is brand new from the ground up and is designed from the outset to be powered by electricity.
Go easily and there's a potential range of 307 miles in the Q4. If you plug into a fast charger for a top-up, you'll add 80 miles of range in around 10 minutes. Impressive.
Three power options are available. We've gone for the best one, the Q4 40 e-tron which develops 201 bhp and uses a single electric motor to drive the rear wheels. Like all electric cars, the initial burst of power and performance will impress your passengers. You'll reach 60 mph in under 8 seconds. The handling is rock-steady and you'll love the blend of sporting agility and long-legged cruising. Perfect.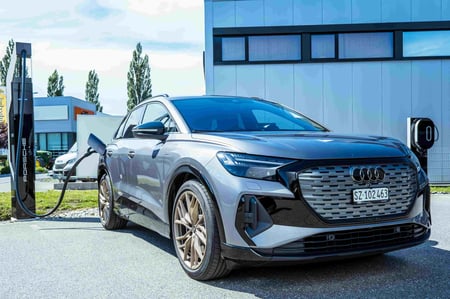 Driving is simplicity itself. Pull a slider on the centre console towards you….and away you go. Needless to say that you ride along in near silence with only some wind noise and tyre rumble to keep you company. Switch on the radio and you won't hear anything apart from your favourite tunes or radio station. The seats are extremely comfortable and there's loads of space front and back. Overall, the Q4 feels incredibly refined.
The interior is the usual Audi work of art. The standard of finish is up with the very best. You get a high level of kit including air con and sat nav controlled via a really smart colour touchscreen. There's everything you really need.
It's a brilliant car. The fact that it also looks terrific is icing on the cake.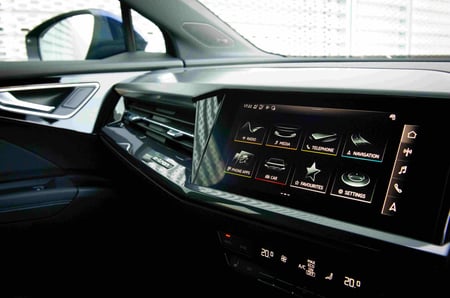 Reasons to buy the Audi Q4
One of the quickest and most powerful cars in the SUV market. 0-60 in under 9 seconds from the standard edition.
Easily one of the nicest looking cars in Audi's collection
520L of boot space makes this a viable choice for anyone who needs to always carry a lot of items in the back
Audi app is a must-have. You can check your battery, and update the temperature in your car every morning before you set off for work.
One of the most comfortable rides we've reviewed.
Plenty of space in the back seats for kids and passengers to be happy on long journeys
Reasons to pass on the Audi Q4
An advertised range of 250 miles might be an issue if you use your car for long journeys, the electric Sportsback as a longer range.
Steering wheel controls are touch sensitive, which can be an unnecessary distraction