First Time Using Car Subscription? Here's What You Need to Know!
After reading this article, you'll go from a Car Subscription newbie to knowing everything you need to start your new car lifestyle. You'll understand how to subscribe with Wagonex, and some tips for you to make the most out of this new way to drive.
Car subscription explained
Car Subscription is the only way to drive if you want total control and flexibility.
How is Car Subscription more flexible? You can subscribe to any car for as short as a month to longer term deals. That allows you, the driver, to choose what car you need at that time instead of dragging a car around that you don't want for the final two years of a 5 year lease.
All Inclusive Subscriptions: Car Subscriptions makes your day-to-day life so much simpler because you have all the annoying parts of buying a car organised into one monthly payment, which includes car insurance, repairs, road tax, breakdown cover, maintenance and servicing. There's nothing to slow you down once the car arrives at your home.
Car Subscriptions are 100% online. Why? For us at Wagonex, we wanted to make it as easy as possible for you to use our service, so it was really the only option for us to go completely digital. We didn't want you to have to go to a dealership everytime you wanted to change cars, instead you can get the car from the comfort of your own living room without any unwelcome haggling from a salesperson.
Okay, so now you've learnt what a Car Subscription is, we'll give you some advice for first time subscribers.
1. How to set up your monthly budget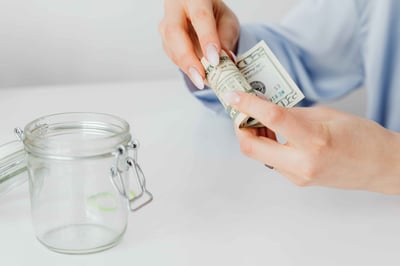 With a car subscription you pay a fixed monthly fee that will go up in price the shorter the subscription and go down in price if you want a longer term deal. Here's some tips to make budgeting easier for you.
You pay for the majority of your subscription on monthly fees, so it's important to have a maximum monthly budget in mind before you start looking.
If you have saved money for a new car or have just sold your current one, then decide how long you want a specific vehicle and how much you want to spend each month. Then choose the perfect car to fit your budget and your needs.
If you aren't actively saving for a car, look at your monthly income and work out how much of that you can realistically spend on a car that keeps you on top of your life essentials.
2. Remember the hidden fees
A car subscription includes a lot more than lease or PCP.
As a general rule of thumb you have to look at the added benefits, and compare them to your standard car lease or PCP deal.
A maintenance package costs around £24 a month, which is already included in the subscription.
If you want to go even further you can look up the cost of road tax, breakdown cover and servicing on the specific car you want or you can read Kwik Fit's Guide on annual and monthly running costs.
3. Car subscriptions have a higher mileage limit
Except for much smaller cars like a Renault Zoe, every car on our platform comes with 1000 miles per month as standard. This isn't the case when you're looking at a PCP or lease.
This could mean a difference in price of a minimum £30 pound a month. Always remember to factor in these costs.
4. What are the upfront costs?
If you're actively looking for a car, you probably already assumed you'll pay a big chunk of cash to get it but with a car subscription it's only a refundable deposit that is usually around the same price as a month's subscription.
We do it this way to ensure you look after the car and you can easily switch between cars without paying costly upfront fees on each new car you drive.
When you look at this from a budgeting perspective, we advise that you take into account the money you have saved for a car will be spent mostly on monthly payments.
Typically when you save for a car, you pay for it outright, or you have a down payment of at least a few thousand, so make sure that you slightly stretch your monthly budget because you won't be using that money in an upfront payment.
5. What items do you need for a car subscription?
Before you order your car make sure you have this list of items:
Credit or Debit Card
Driving Licence
Your No Claims Bonus History
Utility Bill or Bank Statement to prove your address
6. How to set up your car insurance?
You can use Wagonex Car Insurance or use your own provider.
If you want our insurance, we use your real-time driving history, alongside a few basic questions to instantly generate a personalised insurance quote. We do this so that our customers aren't shelling out more than they would on fleet insurance.
Find out about Wagonex's embedded insurance solution, here.
If you use your own, send us a message at help@wagonex.com or speak to a member of our customer service team.
Remember that it's required by law that your car is insured and it's not our responsibility.
7. Can you cancel your car subscription?
If you were to cancel your subscription during your contract, we make it even easier than ordering a car from us.
If you send us an email to help@wagonex.com or speak to one of our team members from the live chat in the bottom right hand corner, we will process your cancellation the same day.
The only fee you pay is the difference in price between the agreed subscription length and the actual length you had the car.
For example, an agreed 12 month subscription is cancelled after 6 months, you simply pay the difference in the monthly price for the same 6 months. No hidden contract clauses, no stipulations.
If you want to know exactly how we do it, go here.
8. How easy is it to swap your car?
If you want to swap, renew or return your subscription you'll do so in the 'My Garage' section of your account on www.wagonex.com.
If you want to swap your vehicle with another, it's always best to give us as much notice as possible, we recommend at least a week. This helps us deliver your new car with little delay and you won't be stuck without a way to get to work. Phew!
If you want to renew your car subscription, you keep the car and decide on how long you want your subscription to be.
9. How is the car returned?
At the end of your subscription the car is returned by you or one of our suppliers. After the car has been returned, our supplier will do a BVRLA fair wear and tear check. Once that's completed your deposit will be back in your bank account.
Did you find out everything you need to know about

Car Subscription

?
We hope you did, but if not, ask a question in the live chat in the bottom right corner, and our team will be happy to answer them.