We're going to go through five reasons why you should consider an electric car subscription instead of leasing or ownership but you might not know what a car subscription is. So let's change that!
Car Subscription is an easy way to get an electric car without the commitment of owning or leasing. You can subscribe for as short as a month and every subscription includes:
A yearly MOT
Free servicing
Repairs if anything is wrong with the vehicle
Breakdown cover if the car had a flat tyre and needed picking up
Insurance can also be included
Now you know what's included in a Wagonex Car Subscription, let's go through 5 reasons why an electric car subscription is perfect if you stand for paying up to £100 every time you go to petrol station.
1. You don't need to pay top dollar to go green
We're all looking at our lives and thinking, 'is this really good for the environment?'
Whether it's eating meat, reusing old clothes or reducing our plastic consumption,, we're all realising that every little help can create a lasting change.
We're all guilty of taking the way we live for granted, but we can all agree that filling up our tank of petrol every two weeks is the worst thing we can do for our environment.
Making the switch to an EV can seem expensive, especially if you're looking at buying or leasing. With a subscription, you can save hundreds of pounds a year by avoiding the hidden fees that you pay for when you lease. A Wagonex car subscription means you only drive when you actually need to, so you can reduce your carbon footprint one month at a time..
2. Don't be spoilt for choice, swap your car when you want to
So you've decided enough is enough and that you're getting an electric car. But which one is right for you?
There's Tesla, Audi, Polestar, and Hyundai all producing amazing electric cars, and every week there's more models to choose from.
When you subscribe to an electric car with Wagonex, you can pick and choose between a range of SUVs, saloon, or family cars depending on what you'll need that month or season.
Getting behind the wheel of a new car should be a pleasure - why only treat yourself every few years? Besides, just because your new car is right for you today, doesn't mean it'll still be perfect one, two, or five years down the line.
3. Stop shelling out an arm and a leg for a tank of petrol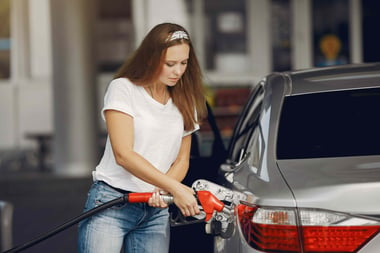 This is an easy one, especially if you use your car often and end up getting through more than a tank or two a month. Pod Point has calculated it costs around £15 to fully charge your electric car from home with 200 miles range, compared to around £70 to £100 per tank of petrol for 400 miles.
So, you're paying 5 times as much in fuel by driving a petrol car but that's not the whole story, EVs can be more expensive than you standard petrol car, so let's work out how much you would actually save by going electric:
Let's take a look at a real life example. A petrol powered Kia Stonic costs around £540 a month compared to around £600 a month for an electric Hyundai Kona.
Considering they are similar cars, you could be saving a whopping £100 a month if you used the 1000 miles per month. That's £1200 saved per year and without looking at the the savings you can get with lower electric car taxes.
Don't forget, if you're travelling a lot to London it makes even more sense to go electric because you save £25 every time you drive through the ULEZ.
Quick tip: If you drive a petrol car, look at your monthly mileage and then your bank statement to find out how much you spent this month on fuel, then compare it to an electric car using this calculator and you'll find out how much you'll actually save.
4. Leasing can be just as expensive as owning the car
Leasing can be good because it lowers your monthly payments, but it doesn't cover you if there's a problem with the car and if you're going to pay for the repair, you might as well have bought the car!
This is why car subscription is different. We take care of all your repairs, MOTs, servicing and breakdown cover and include them in our all inclusive subscription package. Doesn't that take a lot off your plate?
You can learn more about the differences between car subscription with car leasing.
5. Subscribe to try out an EV before choosing one for the long term
When was the last time you took a test drive and REALLY got under the hood?
With a subscription, you can subscribe for as little as a month, and by the end you'll completely understand how an EV works, and how and where to charge it. You don't get that on a 20 minute test drive!
If you subscribe to your favourite EV, and then decide you want to buy it down the line, we won't be offended! By taking a one month subscription, you'll be in a much better position to decide which EV to add to your driveway.
We hope you enjoyed learning about the benefits of an Electric Car Subscription, you can learn even more about EVs on our blog, or go straight to our marketplace to flick through our range!