I'll tell you right now, this car oozes quality and style. The BMW 3 Series Touring is devilishly distinctive.
The Look
The BMW M340d is the pick of the trims and the pick of the engines and, okay, beauty is in the eye of the beholder, but we reckon the Touring (that's BMW's word for estate) is better looking than the saloon.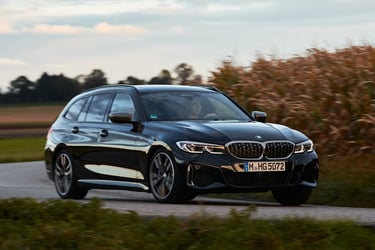 The Engine
And if you enjoy a car with power (340bhp) and a truly wonderful 3.0 litre engine and exhaust note then this Beemer will keep you happy for a long time.
This car is powered by one of the best engines in the world. You have loads of power but can still achieve a sensible level of 35 mpg. In other words, if you need an estate car which will haul a hefty load over vast distances, this is the car for you. It's hard to think of a better car for taking a family on holiday to the south of France, yet still look forward to the drive home.
The Interior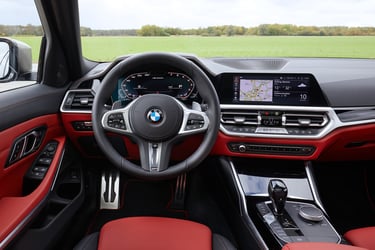 The interior of this car is truly luxurious, and sporty. It's also a clean design inside, especially if you hate fiddling with big touch screens, this car is really simple to use when you're driving. It has switches and manual dials all over this car, from the steering wheel, to the doors and it makes it a good drive for those who don't like the all the car-tech.
The Boot
The boot has 500 liters of space with the seats up, so unless you're carrying a settee in the back, you'll be covered for almost any luggage.
The Features
3.0-litre turbodiesel 6cylinder engine
335bhp, 516lb ft
AWD

0-62mph in 4.8sec

55mph

48.7 – 52.3 mpg,

1760kg
Would we recommend this car?
Some motoring magazines refer to this car as the best car that BMW currently offers. We can't argue with that. It's a car that's built to do the job, but you still have the urge to test out the engine, and when you do, it doesn't fail to shock you every single time!
If you have a family, but want to drive a car that still has you looking the part, I would subscribe to it today. Quite frankly, this car is special.
Thanks for reading!
Have a look-through our collection of car-reviews to find the car you fancy.
Follow us on twitter, and Facebook to keep in the loop for reviews of the newest cars on the market.