Getting a car subscription works similarly to leasing a vehicle but there are some key differences, especially when you use Wagonex.
Usually when you lease a vehicle, you have to find, compare and sign up to your own insurance provider. Making the process of getting a car much more time consuming than it needs to be but when you choose to subscribe with Wagonex we generate a competitively priced insurance quote.
It will be added to your monthly subscription fee, so you can see the actual price you'll pay each month, and then you can decide to order the car.
To answer any potential questions you have we've written this guide on How Does Insurance work for a Wagonex Car Subscription.
Before you start reading, we would like to remind you that it's illegal not to insure your car, and you will be held responsible if this is the case.
In this guide we'll cover:
What's different about Wagonex Car Insurance?
What cover Wagonex provides
No Claims Bonus/Discount
Voluntary Excess
What questions you'll be asked for your personalised quote
What happens after you answer these questions


What's different about Wagonex Car Insurance?
Wagonex provides you with a tailored insurance package that is based on the information you have provided when you create an account with us. We didn't want a one-size-fits-all policy for insurance because Wagonex wants you to be offered insurance that gives you the protection you need at the price you deserve.
Our way ensures that when you agree to a monthly fee for your car insurance, you pay the lowest price possible. Usually when you try to get a car online, you'll see options based on your age group i.e, 60-69 but we take it more seriously than that.
At Wagonex we base our real-time insurance quote on how safely you've driven from the time you've had your license.
No Claims Bonus or Discount
Every year you've got private car insurance and you don't make a claim during the year, you're awarded a no claims bonus (NCB).
Usually companies only accept No Claims Bonus from the UK or from policies that have expired in the last two years.
You can transfer your NCB to a different car but won't be able to use the same NCB on multiple vehicles or another type of vehicle, for example a bike, or van.
However, you can add more NCBs on vehicles covered by different insurance policies.
How do you find out if you're eligible for a no claims bonus?
If you check your most recent renewal notice, it will tell you how many NCBs you have earned or speak to your current insurer, and they'll tell you.
Need to know: If you start a new policy with a different insurer, you'll have to provide proof of your NCB to the new insurer.
If you want to use your NCB you can tell us how many years you have available in the insurance questions you'll see later in the article.
Voluntary Excess
Opting for a higher voluntary excess will often cut the cost of your car insurance by reducing your insurance premium.
You can use Voluntary Excess by simply selecting how much you want add in the insurance page of our checkout, which is displayed in the second image below.
If you need some information on how to use voluntary excess, read this.
We'll explain how it works in the sections below.
What does Wagonex Car Insurance cover?
Our insurance is always full comprehensive cover, so that you get the protection you need, and the supplier of the vehicle is protected against any possible risks were anything to happen that affected the value of the car.
This is what our insurance will cover you for in most circumstances:
Cover for damage to other people's property
Cover for passengers if they were injured
Cover for you and the car
Windscreen repair
A courtesy car while you wait for a repair.
Each insurance provider is different, make sure to read the contract fully before you agree.
What questions do you need to answer for your car insurance quote?
You'll be asked whether or not you want insurance added. You can either use our tailored insurance package or use your own insurance provider. If you prefer to use your own, that's just fine but make sure to give us the information on the insurance policy you signed up to.
You'll then be asked some basic questions to make sure that your insurance package is the right one for you, and most importantly at the correct price. The questions you'll be asked are in the image below.
What happens after you've answered these questions?
Once you've clicked on calculate price, your insurance package will be created and will be added to your checkout. The price will be clearly displayed the same way it is for the Renault Zoe in the image below.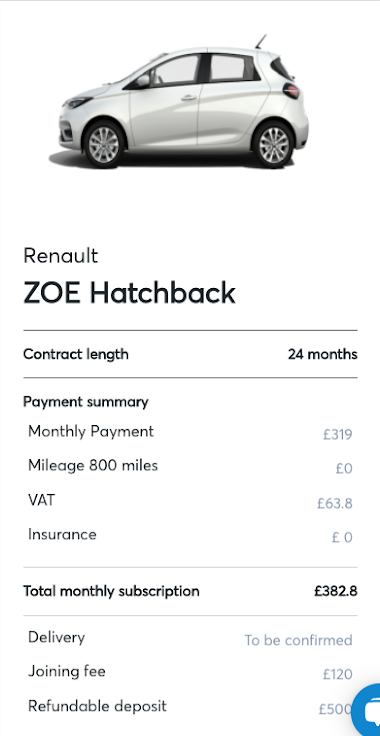 You will complete the order once you have gone through the next stage of the checkout and no payment will be taken until the car arrives at your door.
Now that everything is sorted with plenty of time left over, you can just put your feet up with a cuppa as you wait for your new best friend on four wheels to be dropped off at your home.
We hope that gives you the information you need to understand how Wagonex Car Insurance works.
If you have any problems subscribing to a car, please talk to us using the live chat in the bottom-right or email us at help@wagonex.com.
We're happy to help!
Want to know more about Wagonex Car Subscriptions?
Read the What Is Car Subscription blog or follow us on Twitter or Facebook.