Expat Car Guide
Driving in the UK is relatively easy – you just need to remember we drive on the left! If you have a valid driving licence, from anywhere in the world, you can drive a car on UK roads. But as an expat, what's the best way to get a car if you don't have one: leasing, buying, or subscription?
Can I bring my car to the UK?
In short, yes, but it can be awkward to bring your own car over to the UK. Not only do you have to actually get it into the country, which can be expensive, there is a lot of paperwork involved in ensuring you can legally and safely drive it. You may therefore find it easier to lease or hire a new one when you've moved here. You could even subscribe to our services if you want the flexibility to change cars if your needs change while you settle in.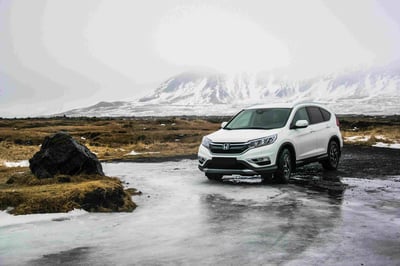 Expat Car Buying
It may seem like buying a car outright is the most convenient option. If you can afford to, this may well be true. Once you've bought it, you don't have to worry about the hassle of lease payments. But buying a car outright is likely to be very expensive, even if you get it second-hand. On top of moving to the UK and sorting out a new life in a new country, this may well not be the most budget-friendly option.
Although you can get a car second-hand, it would be wise to check with the DVLA website that you're dealing with a legitimate car dealer and that the car is not in any way being sold under false pretences.
However, you will be paying a few hundred pounds a year on items such as road tax and breakdown cover if you plan to buy a car, which can be very costly depending on the vehicle you choose.
Rentals are more likely to be a better option, you have less risk on your end and unless you plan to take the car with you or plan to stay where you are moving, buying a car will be too big of a commitment.
Expat Car Leasing
One of the most common ways to purchase a vehicle in the UK is a lease payment. However it can be quite difficult to find a provider who can provide shorter term contracts. There is also a fair amount of paperwork involved in the process.
On top of this, lease periods tend to be offered at a minimum of two to three years. This may be good for you if you're moving to the UK permanently. But if you're only working here for a few months then this may not be the most viable option.
As an expat, leasing may be a frustrating process, credit checks can take a long time and you'll have a lot of contracts to sign.
Fortunately, there are specialist providers who offer finance to expats. Depending on the provider, you may need to have a UK bank account set up. Even if that isn't necessary, the provider will likely need to perform a full credit check in your home country, which could take a long time to come through. But, depending on the provider, you may well be able to get this done before you move to the UK, which should make things easier.
Leasing also has a long lead time, usually around 24 days, which might be too long for a lot of people who need a car quickly.
Leasing is a better financial option than buying but there's still a lot of drawbacks. Leasing isn't like buying a car but it's still your responsibility to have it serviced, set up insurance and have breakdown cover up and running.
Monthly Car Subscriptions
If you're looking for an easier option for getting a car as an expat, we think a subscription is your best bet. We have hundreds of expats use our service each year because it's so much easier for them.
For one, subscription gives you flexibility around how long you drive a specific car. You can subscribe from anywhere between 1-36 months and if you need to send it back early, there's no cancellation fee. Read about our easy-going cancellation policy.
Wagonex includes everything you'll need in one monthly payment you just add fuel. We include repairs, MOTs and servicing, breakdown cover and road tax so you aren't held back in any way, just subscribe and drive.
If you currently rent a car every time you come to the UK or travel to Europe, you've probably been a bit miffed when you order a black BMW 1 Series and they come back with a blue Kia Sorento. This doesn't always happen but with Wagonex, we can promise the car you order is the car you get.
As an added bonus you can get your car delivered to you in under a week, usually it would be a minimum of 21 days when you buy or lease a vehicle, this can be a lifesaver if you're in a rush.
You can also set up insurance when you order your car but if you have your own provider that's fine too. We only offer our insurance to drivers who have lived here for longer than a year, so you will need to organise your own car insurance if that condition does not apply to you.
What documents do expats need for a car subscription?
A valid driving licence is the most important document you'll need as a driver in the UK. Whether you've moved abroad and are returning, you're moving here, or even just visiting, you will need a valid driving licence in order to use a vehicle on UK roads. If your licence comes from a country not in the EU, you will need to exchange it for a UK licence after 12 months in the UK.
If you have any questions during the process you can call us or chat to a member of our customer service team from our live chat in the bottom right corner.