HYUNDAI'S BIG SHOT
Hyundai is moving forwards rapidly in terms of style and desirability. Take this Hyundai Santa Fe for example. Any previous Santa Fe drivers are in for a pleasant surprise. They'll immediately spot a lift in interior quality which now has a seriously premium feel.
Hyundai have had tremendous success the last few years, and it's because they combine a high-end luxurious look with a price that's hard to argue with.
It's a good-looking car aimed fair and square at families who want to do some touring in comfort and be able to take everything, including the kitchen sink or the grandparents, in the back.
Oh, and talking of the back, the Santa Fe is a rarity in that it comes with seven seats. Okay, the rearmost row is for kids or for adults over a short distance, but it's handy to have. Drop those seats into the floor and you have a massive load area.
Here's how it looks in the back: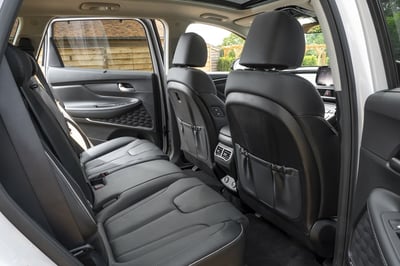 We've gone for Premium trim and four-wheel drive. Power comes from a 1.6 litre petrol 230bhp engine which is an MHEV (mild hybrid which means a battery powered electric motor helps the engine to be more efficient). Bearing in mind this is a chunky vehicle you should still manage 40mpg.
You can adjust the driving characteristics for Sport, Comfort and Eco. Despite its size, the Santa Fe feels nimble on the road. It's an extremely relaxed cruiser.
This is how the interior looks: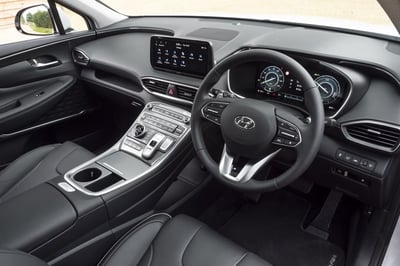 Premium trim means the Wagonex Santa Fe is well equipped including sat nav, air con, leather upholstery, powered and heated front seats, heated outer seats in the rear, LED lights, front and rear parking sensors, rear camera, powered tailgate and a stack of safety kit. Impressive huh?
Final Thoughts
In other words, if you need a handsome, fully loaded, family holdall, you'll love the Hyundai Santa Fe.