The speed at which the popularity of SUVs (Sports Utility Vehicles) has exploded in this country is staggering…and we reckon one of the best is the Audi Q5.
The Audi Q5 is one of the UK's favourite premium SUVs. It oozes quality and style. Build quality is stunning. It's comfortable and is a thoroughly entertaining driving experience. It has a purposeful stance. The pronounced wheel arches look great.
Every Q5 is well equipped, but the Wagonex model is the fully loaded TFSi model in S-Line trim and with an S-Tronic gearbox which is a delight to use via the paddles behind the steering wheel.
It comes with air con, sat nav, Xenon headlights, LED running lights, reversing camera, heated sports seats with faux leather upholstery, Bluetooth, DAB radio, multi-function steering wheel, parking sensors, sport suspension, powered tailgate, a brilliant audio system and class-leading safety kit. It really stands out thanks to the side skirts, deep front and rear bumpers, and darkened privacy glass. In a nutshell, this Q5 looks fabulous.
In terms of the oily bits, under the bonnet you'll find a 2.0 litre petrol engine which develops a healthy 261bhp. Top speed is 149mpg…0-60 takes a shade over 6 seconds. Sounds good too. Go easily and you'll manage around 32mpg.
Out on the road you have pace with grace and you have the reassurance of all-wheel quattro transmission via a 7-speed automatic gearbox. The ride is uncannily smooth. It's extremely quiet too, In fact, you hardly notice when the petrol engine bursts into life. It's seamless.
The interior is roomy and there's plenty of baggage space for a holiday fortnight.
SUVs come no better and more stylish than the Audi Q5. Add in the S-Line trim which we've done here at Wagonex, and you end up with a car that looks and drives like a million dollars.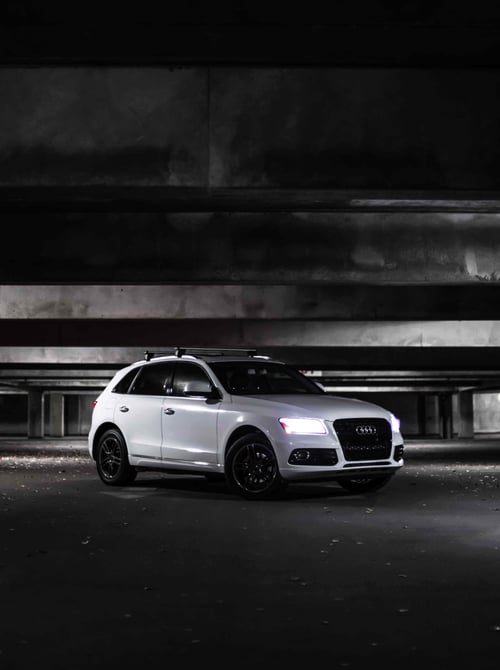 Reasons to buy the Audi Q5
520 L Boot space, which is amazing for a car that's considered a down-sized version of the Q5 Sportsback
Great handling and feel for a big car
Multiple driving modes to make it easier to drive on long journeys on the motorways or for quick trips to the shops
Audi app comes with it. Which quickly becomes an essential part of your daily routine.
One of the best looking SUVs on the market
Reasons to pass on the Audi Q5
Quite expensive compared to cars which are similarly stacked with features and specifications
The car is 17th out of 31 models of Audi on durability. if reliability is important to you, you could go for something else.


If the price of the Audi Q5 puts you off, you can subscribe to this car for a fraction of the price. Go to our Car Subscription marketplace today to see if it suits you.