Buying a car can in the dealership can be a hassle but does it need to be?
You have to find out what colour should you choose, and what brand? Is it best to buy it outright, or should you opt for a lease or a personal contract purchase (PCP)?
On top of all that, you may find it difficult to find a dealership near you, pushing you to go online. But is it wise to buy your car online?
Well, we've done it both ways, and have come up with this handy comparison guide to buying a car online or offline.
Buying your car online
Online retail has exploded over the last decade or so, and the world of cars is no different. Far from being the minefield one might think, buying a car online can be simple.
For one thing, a car company's website is more likely to show the full range of models on offer than the dealership. So, once you've decided on a brand (say, BMW or Ford), you can find the model you want, whether that's a hybrid, electric, or internal combustion engine (ICE).
From there, depending on the site, you may be able to customise your car to your liking. This means you can choose its colour, what the interior is made of, any technological upgrades you want, and even the specifications of the engine.
Even if you don't want to buy it online, it's the best way to research what car you should get and what method is best for you.
There may be videos of test-drives you can watch to help you make a decision. Unfortunately, a video is no substitute for doing it yourself in person, and buying online means you may not be able to ask for a test-drive.
A Car Subscription will allow you to drive any car for as long as you like, and with a fair cancellation policy that makes it unbelievably easy to send the car back, one might ask themselves if they need a test drive.
Furthermore, buying online means you can't always ask any pertinent questions that may arise. Some of the terminology used around cars, whether it's technical specifications or terms used in financing can be tricky to understand, even if the website offers explanations.
PCP is a prime example of that. We compare it to Car Subscription here.
This somewhat impersonal buying process may make some customers feel a little more cautious about buying the car. Depending on the website, the process may also not feel fully transparent, you can feel like you could get a better deal at the dealership.
This does also depend on the brand you're buying. BMW will do things differently to Ford, while Tesla will do things differently again. One consistent aspect across all brands is a lack of pressure when it comes to shopping for cars online.
You can visit a website numerous times, adjust your car's specifications at will, and close the website all without feeling the pressure to buy now, like you would feel at a dealership.
Buying your car offline
Traditional car dealerships are still the favoured option for many drivers. The price of a car, whether bought via finance options or outright, makes buying one no easy decision.
In today's increasingly online world, it can be a refreshing change to talk to someone knowledgeable face-to-face about making such a significant purchase. They can talk you through anything you may not understand, and can even be haggled over potential discounts and exemptions on price and payment plans.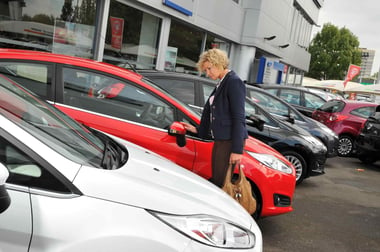 Not only that, but in a dealership, you can opt for a test drive.
That gut instinct feeling you get when doing so is unparalleled, and not easily replicated online. If you're not already certain what kind of car you want, talking to a salesperson can help narrow down your options and make the decision feel slightly less overwhelming.
Even if you can't take a car for a test drive per se, you may be able to sit in a car and get a feel for it that way. Failing that, even just being able to see and touch the car in the real world can help.
However, dealerships do come with downsides.
The limited space in a showroom means you won't see the full range of cars in person. You may also find that the dealer tries to upsell optional extras that you feel pressured into accepting, such as insurance through an unfamiliar provider.
This is probably more likely to occur in second-hand dealerships than in a brand's own showroom. Buying a car second-hand means you may also not be as free to customise the car as you would be in a brand showroom or online.
Subscribe via Wagonex
Here at Wagonex, we do things differently. Instead of buying a car, we offer a subscription service. Our service is simple and fully transparent: there are no hidden fees or interest charges, no balloon payments, a small and fully refundable deposit, and then one easy-to-manage monthly payment that covers everything you need except for fuel, including road tax, insurance, roadside assistance, and maintenance costs.
The one-month minimum subscription term really puts the test into test-drive: you'll be able to see how well a car you might want to purchase handles almost anything a given month can throw at it.
Subscribing via Wagonex also, and more importantly, allows you to switch cars completely at the end of your subscription term. So, if you want a small car to get around your local city day-to-day, but a bigger car to go on holiday, you can switch with ease. Even if you just aren't satisfied with the car you have, it's simple enough to change it.
All of this takes the pressure off the throttle from buying a car. There are no expensive lease terms, no interest payments, and nobody trying to upsell unwanted extras. The whole subscription process is simple and transparent.
Go to our blog to find all the information you need to make the best possible choice on your next car.