BMW X1 2022 Review
BMW X1 sDrive 18i M Sport Specifications
Model: X1
Body Style: SUV
Number Of Seats: 5
Number Of Doors: 5
Price: £35180
Boot space: 505 litres
BMW X1 sDrive 18i M Sport Performance
Engine Size 1499 L
Emissions 147 g/km
Fuel Petrol
Transmission Auto
Efficiency 44 MPG
Power 136 BHP
Running Costs and Road Tax
MPG: 42.2-44.1 CO2: 145-152g/km
Road Tax: £165
When you subscribe to BMW X1 with Wagonex, you won't have to pay a penny for road tax.
First Impression of the BMW X1 2022
The march of the SUV never seems to slow. The choice is now truly vast. However, not everyone needs a massive vehicle with 4x4 capability…..but a lot of people still like the look and versatility of a higher riding car with a chunky appearance while still having a sensibly compact exterior.
Ladies and gentlemen, please welcome the BMW X1.
BMW X1 sDrive 18i M Sport Exterior
In typical M Sport fashion you get bigger 18-inch alloy wheels and a natty styling kit which really does help with the aerodynamics.
The suspension has also been stiffened….but don't worry, it doesn't ruin the ride and we reckon it improves the car to the point that we'd recommend the M Sport version every time.
The LED headlights are terrific and the parking sensors make it simple to slot the BMW X1 into a space. We also reckon that it's a good looking car…..arguably better than the 'ordinary' BMW 1 Series.
BMW X1 sDrive 18i M Sport Interior
The interior of the X1 is a lovely place to be. There's a sense of quality throughout the cabin and the sports seats are extremely comfy. They're heated in the front too.
Satellite navigation which uses the excellent iDrive rotating knob system that allows to you control everything is included. It's the best sat nav out there. You also get automatic air conditioning, cruise control and Apple CarPlay.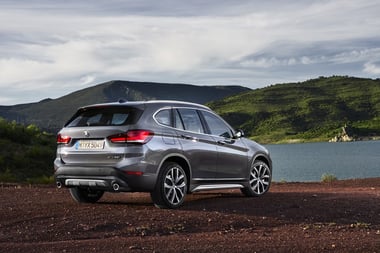 How it Feels to Drive the BMW X1 sDrive 18i M Sport
Don't be fooled by the X letter. This isn't a 4x4. it's the front wheel drive sDRIVE version. To be honest, okay it's nice to have all-wheel drive if the weather or road conditions are tricky, but for the vast majority of time you'd don't need it….oh and it also lowers your fuel consumption.
Under the bonnet you'll find a punchy 1.5 litre petrol engine which delivers 136bhp. 0-60 isn't the quickest at a shade over 9 seconds, but it feels lively enough. Go steadily and you'll get close to 44mpg. Handling is excellent thanks to the sports suspension. This might be an SUV but it handles like a regular hatchback.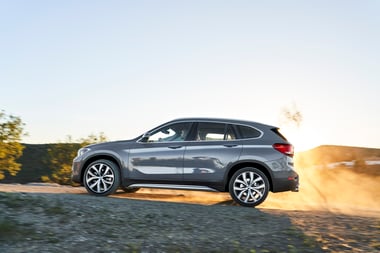 What's the Verdict on the BMW X1 2022?
A great alternative to other SUVs and is certainly one to go for if you like a versatile car with a chunky appearance and a sporty character.
The ride is firm-ish, but it's not jarring and merely adds to the car's sporting nature. It's roomy, has a high standard of interior build quality and of course has the BMW kudos.
You can find yourself a BMW on subscription here or go to our vehicle review page to look at our top rated cars