BMW 3 Series 320i M Sport Auto Review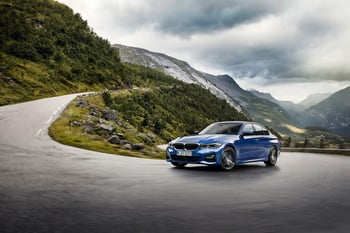 Specifications of the BMW 3 Series
Brand:
BMW
Model:
3 Series
Body Style:
Saloon
Number Of Seats:
5
Number Of Doors:
5
Price:
£36785
Find out the price of the BMW 3 Series 320i M Sport Auto on subscription, here.
Performance of the BMW 3 Series
Engine Size:
2 L
Emissions:
146 g/km
Fuel:
Petrol
Transmission:
Auto
Efficiency:
50.4 Miles Range
Power:
184 BHP
First impressions
The BMW 3 Series saloon is one of the most popular cars on UK roads. That's not some sort of fluke. It's incredibly popular because it's good to drive, looks the part, is well equipped, lively and with a decent economy.
The exterior of the BMW 3 Series
Classic and familiar saloon lines. Saloons aren't the latest news when it comes to car users and buyers in this country….SUVs, 4x4s and estates are more popular…but the BMW 3 Series saloon has stood the test of time.
It's a timeless shape and still instantly recognisable. The addition of 18" M double-spoke alloy wheels, LED headlights and the M Sport body kit makes this a seriously handsome car.
The interior & kit of the BMW 3 Series
Smart, roomy and comfortable. Leather upholstery comes as standard. Build quality is terrific. The doors shut with a satisfying clunk rather than a clang.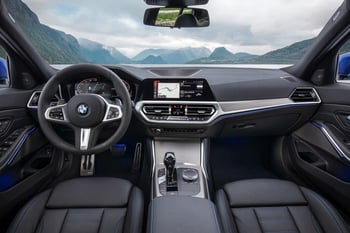 Depending on your age, you'll remember when BMWs needed you to spend hours on the options list to make the car presentable. Not any longer.
Even entry-level Beemers come with the essentials. However, M Sport makes things even easier to live with. You get satellite navigation, cruise control with a braking function, front and rear parking sensors and automatic air conditioning.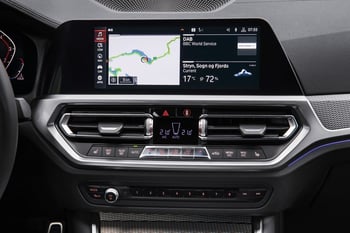 On the road with the BMW 3 Series
A 2.0 litre petrol engine which develops 181bhp means you have effortless performance. 0-60mph comes up in a shade under 7 seconds. BMW reckon you'll manage close to 44mpg which, for a powerful car, is pretty good going. This is also one of the sharpest handling cars available anywhere.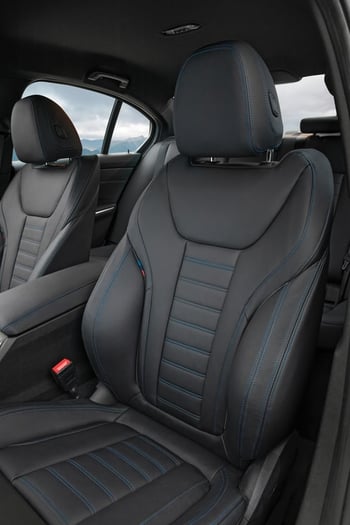 Verdict on the BMW 3 Series
The most frequent view you'll see of a BMW is the front when it appears in your interior mirror and the rear as it disappears into the distance. It'll eat-up miles for breakfast. It's the perfect commuter and family car.