The Audi A4 has A1 performance
Have you driven an Audi lately? No? Well you are in for an absolute treat if you go for something like the A4. It's one of the most sought after cars here at Wagonex, and we'll show you why!=
The build quality is fantastic. Some pundits have described Audis as being as solid as a rock, and you can certainly feel it was built to be durable.
And the attention to detail is wonderful, it makes the car so great to drive even once the honeymoon period is over. It's the way the switchgear works, the way the doors close with a thunk and the clever yet simple-to-use hi-tech stuff. The styling is distinctive yet subtle.
Power comes from a 2.0 litre 150bhp petrol engine which delivers a great blend of performance and economy. You shouldn't have too much trouble cracking the 40mpg mark.
The latest A4 rides better than ever. Previous versions were on the firm side. The suspension has been softened slightly and the seats are more cosseting.
Audi has responded to customers who felt that, particularly at low speeds, the A4 could feel too sporty. That has now been resolved.
The interior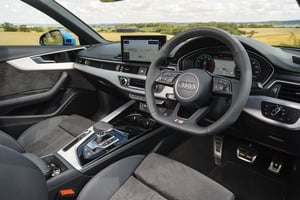 The steering wheel has a round top, and flat bottom which makes it easy to handle when you parallel park, or have to turn around. It's a small detail that you value more as you drive it.
The pedals have a glossy aluminum look, and feel amazing as you drive. It gives it a true sports car feel.
Every Audi is well equipped for everything you need, that includes:
A Sat nav that gives you a simple user experience, so you aren't distracted when you're driving.
Air con
LED headlights
Rear view camera
Leather upholstery
A wonderful audio system all comes as standard
It all looks extremely smart. The car is also packed with safety devices.
The back seats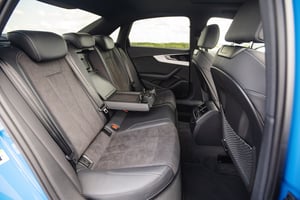 The back seats are surprisingly spacious, it's relatively easy to fit three people in the back because of a decently high roofline, good foot-room, and the netting to carry your phone, and wallet.
The only downside is that annoying cup holder that stops you from being able to rest your arm there for long journeys when comfort could be a problem!
Final Thoughts
The Audi A4 is a thoroughly enjoyable car to live with. It oozes class and is one of the best driver's cars around.
If you're looking for a car that ticks all the boxes, with a dash of sporty style, the Audi A4 is the car for you!
Want to see our collection of car reviews? Go here!
Follow Wagonex on Twitter, and Facebook to get new car reviews sent to you every week!