THIS MINI IS ELECTRIC
Making the decision to take the plunge and buy an electrically powered car can be tricky. There are the obvious choices regarding size of car, colour etc….but for many people, the thought of ditching a petrol or diesel engine is completely alien.
Some of you who've landed on this article will have already decided that an electric car isn't for you…. but wait…stay with us…. because this is a seriously good car and creates an excellent argument for going electric.
It could be the car which finally makes you decide to go in headfirst. And of course with Wagonex you can try it…see if you like it and that electric power fits in with your routine…and then make a decision to increase your subscription or return to conventional power.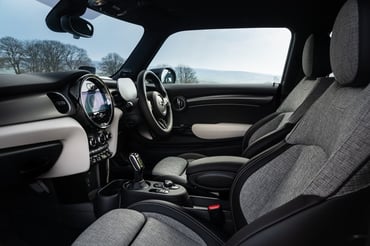 Let's start by stating the utterly obvious.
This is a MINI.
And it's electrically powered.
In other words you've got a car which is already great to drive (every MINI is) and now there's a version with 100 per cent electric power.
This is a winning formula.
Let's start with some number crunching.
Is the Mini Electric better than the Mini Cooper S?
The first bit may surprise you. It's actually worth comparing the MINI Electric with the MINI Cooper S. Why compare it with the Cooper S? Simple, because they have a similar 0-60 performance time. The Cooper S does the sprint in 6.7 seconds; the MINI Electric is 7.3 seconds.
Their power output is also very close (Cooper S 178hp; Electric 184hp). Don't forget, whereas a conventionally powered car has to build the revs to reach peak power and you need to work the gearbox, electric cars have 100 per cent power instantly and, in effect, only one gear. The MINI Electric does 0-30mph in around 3 seconds. It's seriously quick, terrific fun, but incredibly simple to drive.
Hop in, turn it on, select drive, press the throttle and away you go. There are four driving modes; Sport, Mid, Green and Green+. All vary the steering response and the rate in which power is delivered. Green+ mode turns off stuff which drains power, like air con for example.
Another switch allows you to alter what is known as regenerative braking. The car charges the battery when you lift your foot off the throttle. It provides a braking force which, once you get used to it, allows you to drive along without using the foot brake.
And of course you travel in near silence, which is a tad spooky to start with.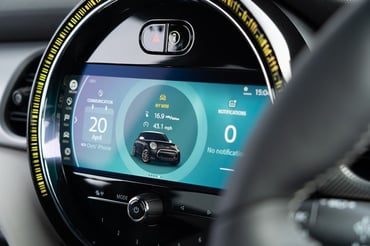 Does the Mini Electric have Rapid Charge?
The MINI Electric has a predicted range of 145 miles. At a fast-charging station an 80% charge is reached from zero in 36 minutes. The sort of charger you will find at work or can be installed at home, will give you an 80 per cent charge in around 3 hours. If you have a daily commute of, say, 20 miles, you can charge the MINI on Sunday night and be fine until you get home on Friday.
If you have access to a charging point at work as well as at home, then you're laughing. If you have solar panels on your house roof, you're quids in.
Mini Electric features
Every MINI Electric is well equipped with sat nav, cruise control, air con and a host of customising options.
As for how it drives….well…it's a MINI which means it's fabulous. Few cars provide so much chuckable fun. And of course, with 100 per cent battery power you can give yourself a smug smile.
If you can adapt to the number of miles per charge, the MINI Electric will be right up your street.
It's quick, wonderful to drive, fully loaded with kit…and green. Oh, and it's built in Britain.
It's a MINI. It's 100 per cent electric. And it's green. What's not to love?