Sometimes a car or an SUV simply won't do. There are times when you need something bigger….much bigger.
Apart from getting in touch with your local bus hire company, there aren't many options.
Unless you go for the Mercedes Vito Tourer that is.
You get 8 seats; two in the front, and three in both the middle and rear rows. Oh, and if you need to do some serious shifting of baggage, garden rubbish, furniture etc, you can remove the middle and rear rows to leave a massive cargo area. Which makes it so handy.
Here at Wagonex we want our customers to have quality, which is why we've gone for the Select trim level to ensure that you get goodies like air conditioning and tinted class…both of which are important bearing in mind there could be up to eight occupants travelling on a warm day. A high level of standard safety kit is also a necessity. The driver benefits from cruise control, a multi-adjustable seat, powered mirrors and leather multi-function steering wheel. There's also DAB radio and Apple CarPlay and Android Auto connectivity.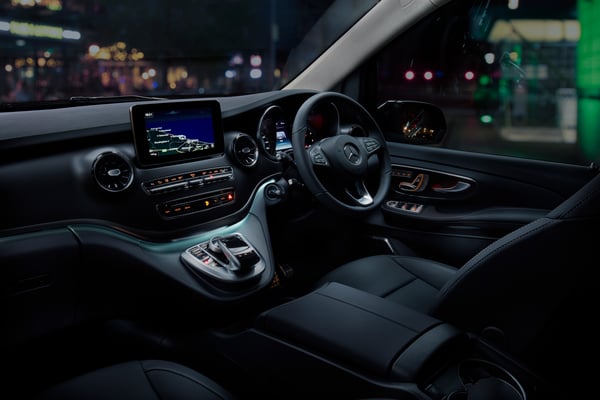 You'll need a powerful engine…and you've got one. A 1.8 litre 4-cylinder diesel which has loads of low-end pulling power for effortless motoring, even when fully loaded. It never feels like you're dragging this car, you feel in total control, which is impressive since it weighs 3.1 tonnes, the Vito is simple to punt around. The bluff rear end makes it easy to park. It's also remarkably enjoyable to drive. Visibility all-round is excellent. The Vito Tourer is designed to cover high mileages so it needs to be comfortable….which it is.
In other words, if you need a versatile vehicle which doubles-up as a load lugger and a people carrier, the Mercedes Vito Tourer is certainly worth a try.
Are you a Mercedes person? Click here to see our range.
Are you looking for a van? Have a look at our complete range here.