If you log onto one of the car manufacturer websites, the first thing that is likely to happen is a pop-up appears on the screen telling you something along the lines of….
"There's a worldwide shortage of micro-chips (semiconductors) which means the delivery of new cars is taking longer than expected."
Chuck in the problems relating to Covid-19 and assembly lines being closed down for several weeks or months, and it's easy to see that there's a huge backlog of new car orders to be fulfilled.
We know a bloke who, at the turn of the year, ordered a new Audi A3. He was given an approximate delivery date.
Want to guess it?
Well, it was December 5th..
He also asked if there was any chance of a discount. The sales feller had a fit of the giggles.
A lot of folk are in the same boat as him. His old car is getting close to 80,000 miles and he doesn't want to go to the expense of having the timing belt changed. He's also worried about being stranded if the car develops a fault.
At which point he decided to look at the used car market. And he was stunned.
Due to the shortage of brand new cars, the demand for used cars has rocketed, and the prices just started going up, and up.
Some low mileage used cars are now costing more than a brand new version of the same model would have a year or so ago but there is a way out of this.
If you do your maths and study the car market, there is a really good chance that it's a great time to cash in.
Used car prices are already starting to dip as high prices squeeze the majority out of the market.
So, here's the situation. Your current car is worth a load more money than you probably realise, it won't be like that for long with prices already slowing coming down for January and February.
Why not sell it and pocket the cash?
You can then use that money to get the car you actually want on subscription from Wagonex, without any delays.
Once you have your new set of wheels, but you'd prefer to buy your next, all you need to do is keep an eye on how the new car market is performing.
Yes, early 2022 has seen a shortage, but the manufacturers are already addressing the problem and it won't be too long before they're fully operational again.
It will still be a while before you get the brand new car you've been chasing but with a subscription you can have the car for as long as you need it, a year would be around about the right time frame but that's your decision to make.
Consequently, they'll steadily clear the backlog of orders….with buyers paying top whack incidentally, and then the used price should go down...by a lot, once used cars aren't as pricey because they won't be the only choice for people looking to buy a car that's actually available.
At that point, you can place your order for a new car. Even better, the dealers are likely to start rebuilding their stocks so there's a chance that the car you might fancy is sat in a compound behind the dealer's showroom.
The time is right to start asking for a discount because you have cash in your pocket from trading in your used car for a good price, and now you know how you can use car subscription for your benefit.
You won't be a desperate buyer. You'll be the opposite.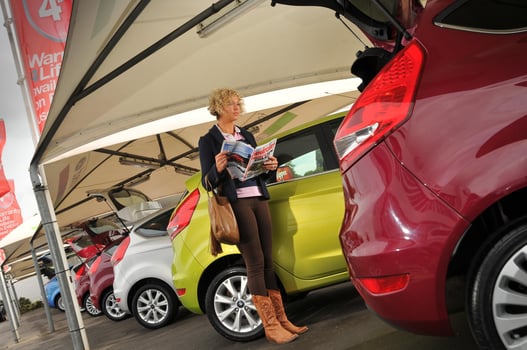 What's the result?
You are now able to buy the new car at a seriously reduced price compared to what you would have had to do in early 2022.
Of course, you can use the savings for a long term deal with Wagonex. What ever the best option is for you.
The best idea is to flick through the Wagonex website and check-out the various cars that you fancy. You might find the car you've wanted this entire time.
Don't pay top dollar for a new or used car. You'll regret it. You'll be paying over the odds and, once the car market has returned to normal, your car's value will depreciate at a much faster rate. What goes up, must come down.
There we have it, a simple way to make the most out of the used car bubble.
If you found this helpful, you can follow us on Twitter or Facebook to keep up to date with all of our new content!